Grant Award 2016-2017
Frontline Foundation received a BEP grant to develop four courses for biosafety professionals in Pakistan. Course content follows the requirements for the IFBA certification exams. The online courses are available with Urdu translations. These internationally accredited, interactive courses are available for biosafety specialists interested in professional development as well as individuals preparing for the IFBA certification exams.
The available courses are: Biorisk Management; Biohazardous Waste Management; The Care and Use of Biosafety Cabinets; and Dual Use Research of Concern. These courses are available in English with accompanying Urdu translations.
2016
Publication in Frontiers of Public Health (Infectious Diseases): Biosafety initiatives in BMENA region: identification of gaps and advances
2014
Frontline partnered with the International Federation of  Biosafety Associations (IFBA) and the Association of Biosafety for Australia & New Zealand (ABSANZ) at the 20th International AIDS Conference to advocate for strengthened HIV biosafety and occupational health at the local level in laboratories and hospitals worldwide.
Frontline partnered with the West Africa-America Chamber of Commerce & Industries (WAACCI) to host a summit regarding the status of the world's fight against the Ebola Virus. The keynote speaker was Dr.  Fiemu Nwariaku, Associate Dean for Global Health and Malcolm Perry Professor of Surgery, at UT Southwestern Medical Center at Dallas. Dr. Nwariaku discussed the amazing success story of how Nigeria confronted, contained, and eliminated Ebola from within its borders.
Glenn Beck Interviews Dr. Cohen and Panel of Experts to Answer Ebola Questions on The Blaze (Video)
Dr. Murray Cohen Interview regarding The First Dentist Office to use a Wello Station (Video)
Medical Grade Innovations Partnership – Article featuring Dr. Murray Cohen
Wello Station Monitors Help Calm Ebola Fears – Article Quoting Dr. Murray Cohen
Dr. Cohen Speaks on Wello Station Donations to Five Elementary Schools in Texas (Video)
April 2013
AP Article with Dr. Cohen – Ricin Used in Three Recent Cases
Article quoting Dr. Cohen on Ricin
December 2012
Dr Murray Cohen served on the committee that revised select agent rules. New Select Agent rules 
February 2012
Dr. Cohen receiving the Everett Hanel, Jr. Presidential Award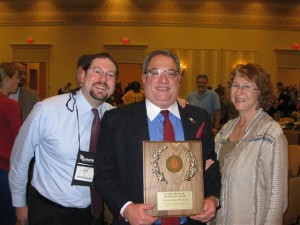 Dr. Cohen (Center) with Reed Cohen and Dr. Elizabeth Cohen after receiving the Everett Hanel, Jr. Presidential Award
from American Biological Safety Association (ABSA).
"The Everett Hanel, Jr. Presidential Award is given to a current ABSA member for outstanding contributions
to the American Biological Safety Association by promoting the field of biological safety and fostering, by example,
the high professional standards of the Association's membership.
January 2012
Virtual Biosecurity Center Publication: Adaptations of Avian Flu Virus Are a Cause for Concern
June 2011
Virtual Biosecurity Center Op-Ed: The Proper Balance of Science, Safety, and Security
November 2010
Keynote Speaker at The Harold Schafer Institute for Excellence in Healthcare (Video)