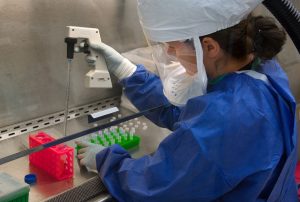 Frontline Foundation was established in 1997, and within a year produced a national conference on the topic of emerging infectious disease. In 2000, Frontline Foundation collaborated with NIH, OSHA, FDA, VA, APIC, the OSAP Research Foundation, and the AAOHN in presenting the national conference Partnerships in Prevention. In 2002 and 2003, Frontline Foundation conceived and produced Homeland Security Summits I and II respectively. Sen. Saxby Chambliss (R-GA) served as honorary chairman for these unique events combining academic meetings/training, commercial exhibits and live action preparedness drills. Frontline Foundation was chosen in 2004 to be the government contractor for the NIAID-funded National Biosafety and Biocontainment Training Program (NBBTP). The NBBTP Fellowship program was expanded in 2006 to include professional development courses and a certificate program. Frontline Foundation is currently providing ongoing biosafety training programs at both NBACC and USAMRIID, and collaborates with Sandia National Laboratories. Frontline Foundation Subject Matter Experts (SME's) collaborated on the development of the WHO Biosafety Train-the-Trainer Program, working with 35 representatives of Western European and Asian countries. Frontline Foundation also assists in pandemic response preparation, agricultural security, and consultation for biological security and non-proliferation agreements. In addition, Frontline offers expertise in design review and risk assessments for high-containment laboratories and processes that ensure quality life science research without jeopardizing public safety and security.Frontline Foundation Founder Murray L. Cohen, PhD, MPH, CIH, served as the first Executive Director of the National Biosafety & Biocontainment Training Program and was an inaugural voting member of the National Science Advisory Board for Biosecurity. He has worked with the Federal Interagency Expert Panel for Anthrax Spore Efficacy Test Methods and Surrogates and is an Expert Consultant in Biosecurity to the World Health Organization as well as to the NIH and other U.S. and foreign government agencies.
With more than a decade of experience, Frontline Foundation is a well-established leader in providing top-tier training and services related to researching emerging diseases and the threats of cross-disease global pandemics. Our subject matter experts have significant experience in areas of both human and veterinary medicine including zoonotic disease, biosecurity training and management to help prepare medical professionals and first responders in today's global health environment. Our expert services include biosafety, biosurety, and biosecurity, first responder training, laboratory safety.
During the past few years, Frontline Foundation has managed programs in biosafety fellowships, protocol review and development, risk assessment, and professional recruitment as they relate to biosafety, biocontainment, and biosecurity. More recently, Frontline Foundation committed to creating an online library of biosafety and biosecurity courses to provide internationally accredited, accessible, and sustainable biosafety preparedness training courses.